Easy Icon Changer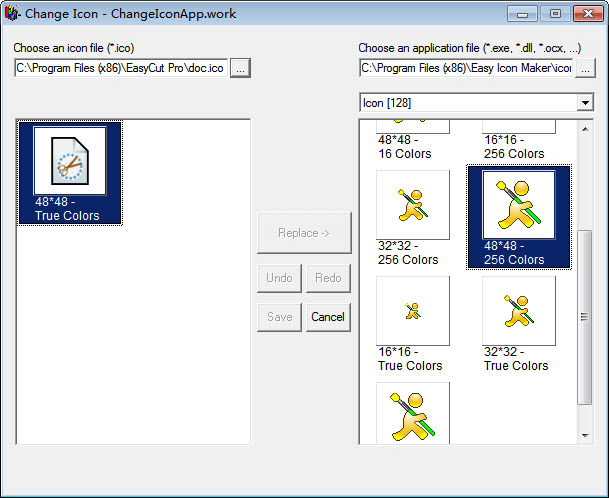 To change an application's icon, please do according to the following steps.
Step 1. Click the "Icon Changer ..." menu item from the "File" pull-down menu. The above screenshot will be activated.
Step 2. Open the application file from the right text box. The application file may be EXE, OCX, DLL, SCR, or other executable file.
Step 3. Open the icon file from the left text box.
Step 4. Select the matchable icon from left and right.
Step 5. Click the "Replace ->" button to replace.
Step 6. Repeat step 4 and step 5 to replace all the icons.
Click the button "Save" to save the operations.
Click the button "Undo" to undo the last operation.
Click the button "Redo" to ubdo the last undo operation.
Click the button "Cancel" to cancel the operations.
Note: this "icon changer ..." tool is not very stable at present, please backup your application file before changing.
Note: this "icon changer ..." is very simple at present. We are planning to develop a powerful icon changer tool in the future versions. We will be glad to hear your suggestions and advices with email address support@icon-maker.com.